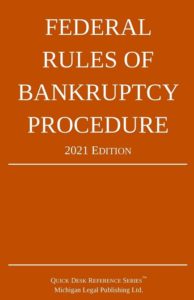 Federal Rules of Bankruptcy Procedure
2021 Edition
A concise and comprehensive edition of the Federal Rules of Bankruptcy Procedure for quick reference, updated through January 1, 2021. Also includes a statutory supplement of relevant sections of Title 28 of the United States Code. Perfect for your briefcase or desk and a great format for the attorney or law student who simply needs to refer to the rules.
MSRP is $14.00

Also available from Barnes & Noble or your local bookstore. Just ask!
ISBN: 978-1-64002-095-5
Contents:
Federal Rules of Bankruptcy Procedure
Rule 1001 – Scope of Rules and Forms; Short Title
Part I – Commencement of Case; Proceedings Relating to Petition and Order for Relief
Part II – Officers and Administration; Notices; Meetings; Examinations; Elections; Attorneys and Accountants
Part III – Claims and Distribution to Creditors and Equity Interest Holders; Plans
Part IV – The Debtor: Duties and Benefits
Part V – Courts and Clerks
Part VI – Collection and Liquidation of the Estate
Part VII – Adversary Proceedings
Part VIII – Appeals to District Court or Bankruptcy Appellate Panel
Part IX – General Provisions
U.S. Code Title 28 Provisions Relating to Bankruptcy (Judiciary and Judicial Procedure)
Chapter 6 – Bankruptcy Judges
Chapter 39 – United States Trustees
Chapter 57 – General Provisions Applicable to Court Officers and Employees (Excerpt)
Chapter 85 – District Courts; Jurisdiction (Excerpt)
Chapter 87 – District Courts; Venue (Excerpt)
Chapter 89 – District Courts; Removal of Cases from State Courts (Excerpt)
Chapter 111 – General Provisions (Excerpt)
Chapter 123 – Fees and Costs (Excerpt)
Chapter 131 – Rules of Courts (Excerpt)
You may also be interested in the 2021 United States Bankruptcy Code.