2021 Federal Rules of Evidence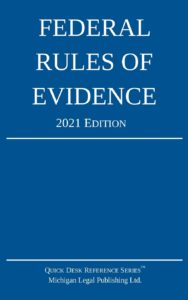 Federal Rules of Evidence
2021 Edition
#1 Best Seller on Amazon in the Court Rules Books category!
A handy pocket version of the Federal Rules of Evidence (5″ x 8″), as amended through January 1, 2021. A Perfect quick reference book for your desk or briefcase, for both attorneys and students.
The 2021 edition now includes internal cross references. Each rule includes a list of other Rules of Evidence which reference that rule, assisting the reader with understanding the full scope of each rule's applicability.
Price is $9.99

Also available from Barnes & Noble or your local bookstore, just ask!
ISBN: 9781640020900
Contents:
Article I. General provisions
Article II. Judicial notice
Article III. Presumptions in civil cases
Article IV. Relevance and its limits
Article V. Privileges
Article VI. Witnesses
Article VII. Opinions and expert testimony
Article VIII. Hearsay
Article IX. Authentication and identification
Article X. Contents of writings, recordings, and photographs
Article XI. Miscellaneous rules
You might also be interested in the 2021 Federal Rules of Civil Procedure.
Find this book in your local library.