2017 Michigan Court Rules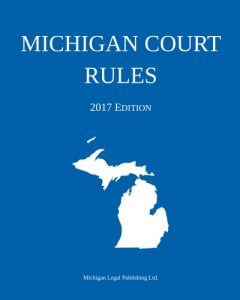 Michigan Court Rules
2017 Edition

Purchase now at Amazon by clicking here
The complete Michigan Court Rules, updated through January 1, 2017. Includes rules of civil procedure, criminal procedure, probate, appellate procedure, and more. Also includes local court rules.
MSRP is $49.00
Full contents are listed below:
Chapter 1; General Provisions
Chapter 2; Civil Procedure
Chapter 3; Special Proceedings and Actions
Chapter 4; District Court
Chapter 5; Probate Court
Chapter 6; Criminal Procedure
Chapter 7; Appellate Rules
Chapter 8; Administrative Rules of Court
Chapter 9; Professional Disciplinary Proceedings
Publication Date: Jan 1 2017
ISBN: 978-1640020016
Page Count: 418
Binding Type: US Trade Paper
Trim Size: 8″ x 10″
MSRP is $49.00.